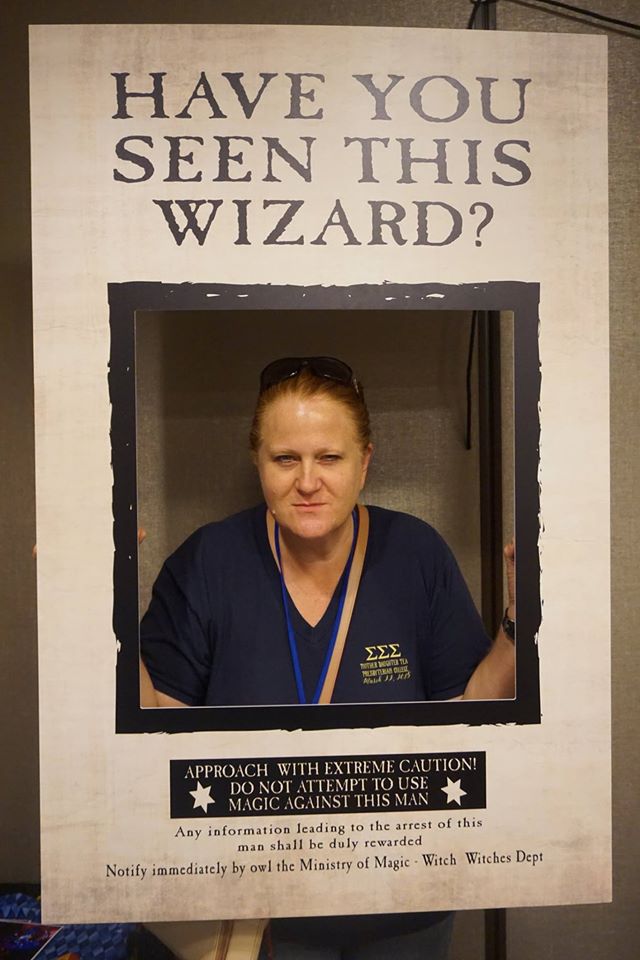 I was fortunate enough to attend my first Dragon Con last weekend in Atlanta with my family. This was the 30th anniversary of the pop culture, fantasy, and sci-fi convention, and I was joined by more than 77,000 others on this adventure. According the the post- convention press release, "Fans came from around the world and all 50 states, with this year's convention attracting people from as far away as Japan, New Zealand, and Fiji." In other words, I was in good company.
What I knew about Dragon Con is that people engaged in cosplay–dressing up as their favorite characters from movies, comics, television programs, video games, and just about anything that reflects their interests. I knew this because I've assisted my young adult kids in making these costumes and/or purchasing items to make them look authentic. I vaguely knew that they held panels for people interested in writing because my daughter, who volunteered this year in media relations at the con, had told me about them last year.
What I didn't know about Dragon Con could fill Lake Michigan. Here's just a few facts that I found impressive.
The con has it own awards/recognition program called Dragon Awards. These recognize the creators of science fiction and fantasy in books, comic books, games and filmed entertainment.
The con raises money for charity. According to the press release, $98,000 was raised this year for its 2016 official charity, the Atlanta Center for Self Sufficiency, which helps put homeless individuals on a pathway to achieving a healthy independence.
The con attracts famous actors, writers, producers, etc. There was some serious talent in that place. There are far too many to name, but a few of the individuals that I've watched in television during my lifetime were in attendance such as Alex Kingston, William Shatner, Gillian Anderson, and Jason Isaacs and Adam Baldwin. There was a pool of talent at the con that would appeal to people of all ages and interests.
The sheer size of the con! I mentioned the numbers above, but nothing would prepare you for how many individuals (costumed or not) were crowded into a huge area of Atlanta. Event organizers added more than 215,000 square feet to the venues, including the AmericasMart Building 2. The con consumed meeting space in the Sheraton, Marriott Marquis, Westin, Hyatt and the AmericasMart buildings.
The con is quite civic minded. In addition to the fundraising efforts, there was a blood drive held in which over 6,000 units of blood and blood products were donated to an Atlanta blood bank. Also, disability services were visible everywhere and provided assistance to individuals with special mobility/seating needs.
The diversity of the people attracted by Dragon Con was one of my biggest surprises. There were people there who were less than half my age as well as people (almost!) twice my age. There were people there of every race, gender and socioeconomic level. Some costumes were Captain America shirts from Walmart and some looked professionally made to the cost of thousands. The attendees for the most part were gracious with posing for pictures, and seemingly unflustered by the long (and I mean long!) lines, wait times and sheer crowds you had to part to just move anywhere. I loved seeing families there with their kids, all in costume having a great time.
I'm saving the best for last. 🙂 I was stunned at the writing community that was in attendance. There were some terrific panels at the con on the writing craft as well as specific elements of publishing. Brandon Sanderson, who is probably best known for finishing Robert Jordan's epic fantasy series, The Wheel of Time, was on a panel that I attended. I ran into him outside of one of the hotels and he was warm and gracious in answering a question and then chatting for several minutes. The authors who attended seemed very willing to interact and share insights with attendees. I was impressed with the breadth of options of panels to attend that focused on writing.

My takeaway from Dragon Con 2016 is that there is truly something for everyone there. If you've ever read or watched anything related to science fiction or fantasy, if you've ever watched superhero movies or read comics, if you enjoy art or especially if you like people watching–this is the place to be during Labor Day weekend in Atlanta. 

Have you been to Dragon Con or think you might be interested? If so, I'd love to hear your comments! For more information on Dragon Con 2017, please visit the website www.dragoncon.org for more information. You can also follow them on Facebook and Twitter.
Photo Credits: Sarah Maney