Have you ever been to a place that has captivated you? A place with the spirit of an enchantress? Somewhere you want to stay forever? I've been fortunate enough to spend many hours in such a place. Nestled in the Blue Ridge Mountains of North Georgia is a tiny valley that most people have never heard of- but if you've been there, you're not likely to forget. It oozes with charm and a level of serenity that will almost convince you that you've stepped back in time.
My great-grandfather, Dr. John Coit, was captivated by the Nacoochee Valley. The views he saw all around him–mountains, streams, rivers, granite cliffs, waterfalls, sunsets, etc., inspired him to pen a poem titled, The Song of the Valley Dweller. It is a beautiful love story, written for a place, rather than a lover. The last two stanzas of the poem read:
Fair Nacoochee, Vale of beauty,

Thou has won my very heart,

All my love is gladly given, 

For a smile of love thou art.

Lynch, Tallulah, Tray, and Yonah, 

May thy circling summits high,

Ever guard this charming valley,

As the years pass swiftly by.

Then if I should fail to hear Him,

And these hand should folded be.

And this heart must cease its labor

Ere the Master's face I see;

Then may those who know and love me,

Come and lay me close to rest

By the bright streams of Nacoochee,

Near the hills I love the best.

J.K. Coit, May 1922
Years after these words were inscribed as a tribute to the valley, his adopted daughter (my grandmother) moved there with her family. My grandfather became the only doctor in the valley and treated patients in a room converted into his office. The house, with its wrap-around porch and mountain views, was enticing enough to inspire someone in a NYC office to select an image shot from that very porch as the cover of the New York Times best selling  novel, The Notebook.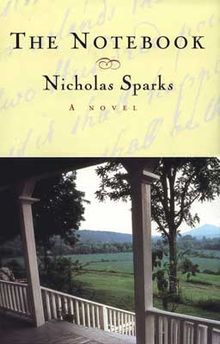 The 1800's era farmhouse comes complete with ghost stories, Native American legends, and a sleeping porch upstairs with full windows on 3 sides. Lucky for my own family, and others who'd love to experience these majestic views for themselves, the house operates as a Bed and Breakfast named, The Stovall House. If you are planning a trip to this area, at least plan to stop in for a meal at the restaurant and soak up the views from the porch.
If you do get a chance to stop in, I'd love to hear about it. Also, if you have a place in this world that has captivated you the way this valley has captivated me and so many others before me, please let me know.